Tell me about Good Citizen Pilates Loops!
Good Citizen has forever changed the way you do Pilates by creating the ORIGINAL Personal Pilates Loops. You no longer have to share the communal straps at the Pilates studio. You can now take your very own Pilates loops with you to class to protect yourself from other people's sweat and germs. Our products are curated by a longtime Pilates instructor and enthusiast, just for Pilates lovers.
Get In The Loop!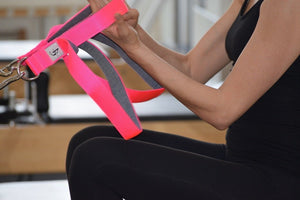 HYGIENE BENEFITS: Protect yourself from other people's sweat and germs. Studios don't wash or wipe down the communal Pilates loops after each person uses them. Gross!
HEALTH BENEFITS: The flu virus can stay on Pilates and gym equipment for days after contact, as well as sweat, oils, skin, and germs. By taking your own personal loops with you to Pilates class, you won't have to worry about who used the loops before you, because you will already be protected.
COLOR THEORY: Studies have shown that adding a pop of color to your workout can keep you positive and happy, while providing an extra energy boost during your practice.
HIGH QUALITY MATERIALS: Our high-end materials repel sweat and water, are resistant to dust mites, and provide greater comfort and support.